T.C.L – hardcore / metal group, featuring some local legends is back with its 2nd album!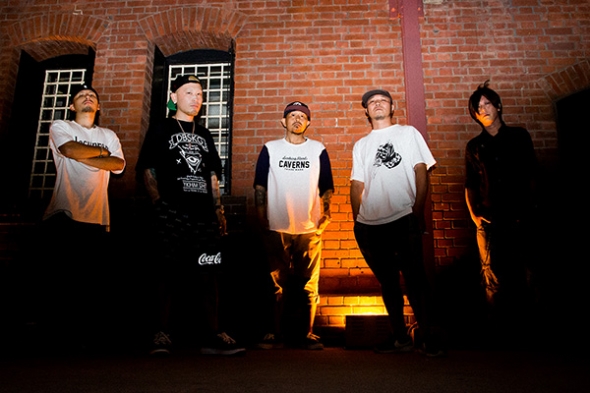 There was a band called The Mad Capsule Markets, active between 1990 and 2006, which, after its early punk years, started to cross hardcore and electronic music, did quite revolutionary things and had a strong, worldwide following. They were usually lumped together with acts like Germany's Atari Teenage Riot and were (rather fittingly) coined as "digital hardcore". After they disbanded (well… officially they are on a hiatus) the members went their separate ways and were involved in countless projects since. One of them was singer Kyono, who since then is mostly known for Wagdug Futuristic Unity, a more-or-less solo act, that followed the digital hardcore sound. However it is less known, that besides Wagdug, he is also involved in another band, that's been around since 2006, called T.C.L (which stands for "The Chunk Legend"), where they go for a very raw thrash infused hardcore sound. No electronics, no nothing, just pure, straightforward mosh pit material!
The lineup, which changed a lot over the years, includes / included some other local legends, most prominently co-vocalist Yamada, who used to be in the now disbanded Geronimo & Undown, two bands that are also really worth to check out. T.C.L released a couple of demos and singles, but only one album so far: 2013's Tremendous CLassixx. That was until this week, as now they are back with their 2nd full length, called The Cecond LP and based on the two videos they released to support the album, the sound did not change one bit and they are as rough as ever! Check below for the the videos, track list and artwork for the album, that was released by the misleadingly cutely named Muffin Records.
The Cecond Lp
2016.10.26
01.We're Back
02.What's Goin' Down
03.Shoot To Kill
04.Lost A Color
05.Not Blossom Yet
06.Fury
07.Border
08.illdesupreme#1
09.The Warning feat. Kojima, Satoshi, Yoshiaki Ishii (Yamaarashi / 山嵐), BxAxNxBxI (Raw, Quikien)
10.The End