Keiji Haino is back with two new collaborations, one with Sumac and one with Charles Hayward!
There are two upcoming releases by Keiji Haino and while both of them are collaborations, the artists joining Mr. Haino could not be any more different:
The first one is follow-up to the album he released in February with US sludge metal band Sumac and it contains four more of their joint tracks. Mastered by James Plotkin and released by Trost Records in Austria, the album will be out on CD and as a digital release later this week, while a double vinyl (first 300 on orange vinyl) will be available sometime around August along with a cassette, which will be limited to 125 copies. More info on the label's site, pre-orders and a sample track up on Bandcamp!
Keiji Haino + Sumac: Even for just the briefest moment / Keep charging this "expiation" / Plug in to making it slightly better
2019.06.28 / CD, digital
2019.08 / 2 x vinyl LP, cassette
01.Interior Interior Interior Interior – Space – Disgusting Disgusting Disgusting.
02.Now I've Gone And Done It I Spilled Holy Water (Just Water) Over That Thing Called Healing Music……………………………. / There Was A Faint "Tsk" Noise.
03.Even For Just The Briefest Moment / Keep Charging This "Expiation" / Plug In To Making It Slightly Better.
04.(First Half) / Once, Twice, Thrice / When You Press The Third Time / Carve Esteem And Despoliation Into Your Heart (Second Half) / Every Historical Scar / Has Been Lined Up At Regular Intervals But / Their Permeation Is Different / Beautified With A Loss Spray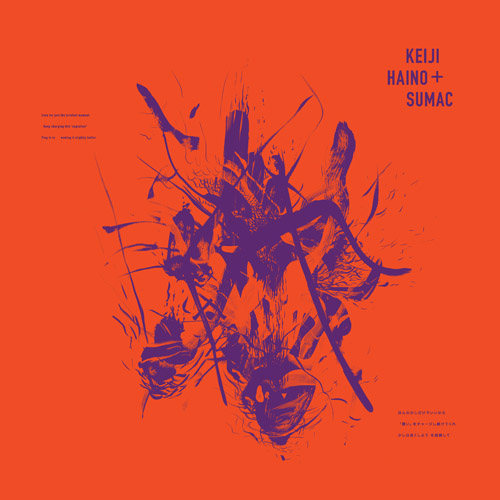 The other album was released last week, on the 21st of June to be precise and for this one Haino teamed up with a living legend, drummer Charles Hayward, known for his solo works and his participation in bands such as This Heat, Gong and many, many more. The album is the recording of a live improvisation the two played at London's Copeland Gallery back in July, 2016 and it is out on UK based ThirtyThree ThirtyThree Records. The digital version is cut to 12 untitled tracks, while the vinyl version comes without a tracklisting and both are available though Bandcamp.
A Loss Permitted To Open Its Eyes For But Three Hours And There Glimpsed, Finally In Focus A Mystery That Begs Earnestly, "Ask Me Nothing" Now, Once More The Problem Is Yours Alone
2019.06.21 / vinyl, digital
A.A Loss Permitted… / 1
B.A Loss Permitted… / 2