Keiji Haino: new album with Jim O'Rourke and Oren Ambarchi + duo show in Budapest with Balázs Pándi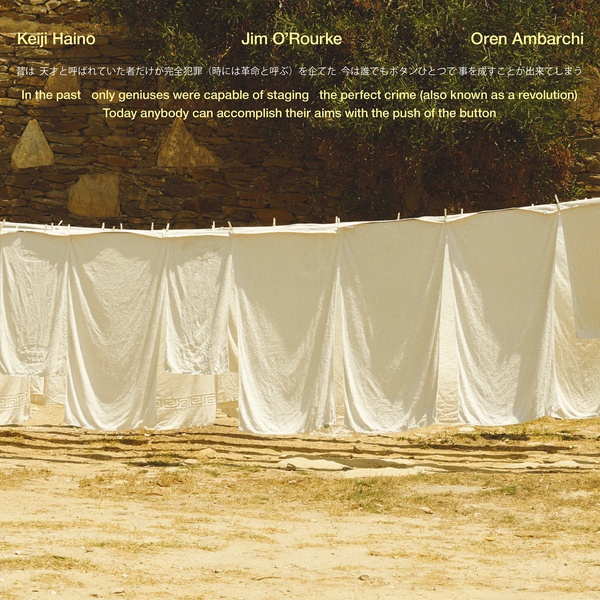 Back in July Keiji Haino released two albums that saw him teaming up with others (one with Sumac and one with Charles Hayward) and there is also an upcoming album with Merzbow and Balázs Pándi… but that's not his only release for September: Australian label Black Truffle in collaboration with Tokyo's Medama Records will release another collaboration, this time with Haino, US born, but Tokyo based Jim O'Rourke and Sydney resident experimental musician Oren Ambarchi (who is also the owner of Black Truffle Records). This trio has a long history together: the three of them released their first album, Tima Formosa back in 2010 and they have been releasing a new album every year ever since (with the exception of 2018). So, the new one, sporting one of Haino's trademark lengthy titles (In The Past Only Geniuses Were Capable Of Staging The Perfect Crime (Also Known As A Revolution) Today Anybody Can Accomplish Their Aims With The Push Of The Button) will be their ninth joint release. Out on the 20th of September and featuring five tracks, the album will be available on CD and double LP in Europe through Kompakt and in the US through Forced Exposure.
On related news: Haino will be back in Europe early October to play a duo show with Balázs Pándi in Budapest at UH Fest on the 5th of October. More info on Facebook or at the festival's website.
2019.10.03 – Portugal, Porto: Museum Serralves
2019.10.05 – Hungary, Budapest: UH Fest (duo show with Pándi Balázs)
2019.10.07 – Belgium, Bruxelles: Les Ateliers Claus (with Ches Smith)