Tokyo 2016 #12: Madame Edwarda, Rosemadder @ JAM, 2016.09.17
Tokyo 2016 is a 13 part series of photo & live reports from September, 2016, documenting a deep dive into the city's various underground music scenes.
Right after the Endon & co. show at Earthdom, the night's adventures continued just a few corners and about ten minutes walk away from there, at Shinjuku Jam, with an overnight event organized by one of Japan's oldest and most excellent goth rock bands, Madame Edwarda. Ironically the main act of the previous show, Spain's Belgardo would fit into this event a lot more with its '80s inspired post punk style, so it was no surprise to see a couple of familiar faces in the audience, that also come over to Jam from the other venue.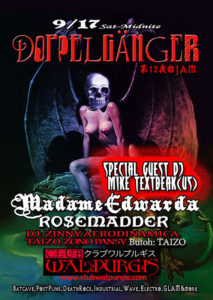 Madame Edwarda actually runs two regular, more-or-less bi-monthly events: Weird TV at Ikebukuro Chop, which is an evening event and as such, is more about concerts and this overnight one, Club Walpurgis at Jam, that is more similar in concept to Tokyo's better known gothic party series, Tokyo Dark Castle and Midnight Mess. Which means it is half-party and half-live event, with the venue turning into a dance club between performances. But compared to those two other party series, Club Walpurgis is a lot more… laid-back? It is way less about dressing up and looking cool than TDC and not at all about fetish & BDSM, that's always been a vital part of MM. And also, unlike those, Club Walpurgis doesn't really attract any foreigners, there was actually none besides the two of us and the night's guest DJ, Mike Textbeak from the US, who was added to the lineup in the last minute.
So, it is much more like a nice little local goth event, which this time featured the DJs, two bands and some more. The night's main act was of course the Madame Edwarda, but before them, there was another band, the female fronted Rosemadder (ローズマダー). They had the traditional rock band lineup, with the singer, a drummer, a bassist and a guitarist… a guitarist, who looked awfully familiar. For a while I just couldn't figure out where do I know him from, but then I recognized him: it was Tak from Calmando Qual, a pretty good goth rock / visual kei group that was around for 15 years before playing its final show in June, 2016. They even had some success and a couple of tours in Europe back, when Japanese gothic & industrial was a thing there for a while. Anyways, back to the show: Rosemadder is centered around their singer Mimi (actually all the others are listed only as support members on their not really up-to-date official site) and the couple of live videos I found from them on youtube did not impress me much. However they turned out to be much, much better live: in those years old videos, Mimi's vocals were a bit off here and there, but that wasn't an issue here, so maybe it was just the bad quality of those recordings? And their music also sounded a lot more impressive: they play heavy, but melodic rock with a dark atmosphere, mixed with a bit of symphonic metal influence, but what really made their show memorable was Mimi herself. And not only her Japanese horror movie villain look, that placed her right besides Ring's Sadako and Ju-on's Kayako, but her strange and creepy, dancing performance style as well, that suited their somewhat theatrical music perfectly and gave the whole concert a very special atmosphere. A pleasant surprise overall.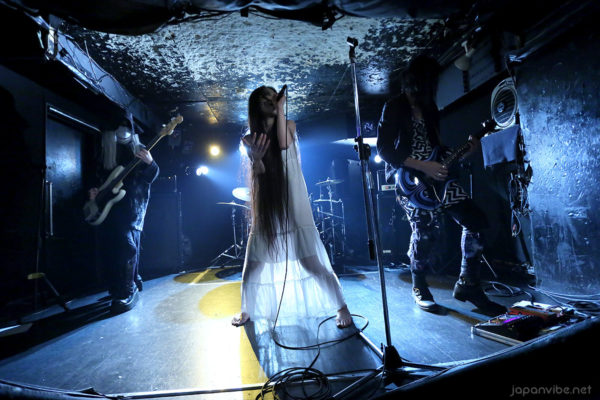 More DJs, more dancing and then, it was time for Madame Edwarda! Back in the '80s they were one of the bigger names in Japan's thriving goth and post punk scene, but after a few years and some excellent releases, they disappeared along with most of the other bands and the scene itself. The singer / leader, Zin-François Angélique aka. Zin remained active though, releasing some solo works and an album with his new band, Zeus Machina and in 2008, he decided to restart Madame Edwarda with an all new lineup, mostly including his pals from Zeus. For a while they were only playing shows, but in 2015 they released a new album, the amazing Réve Desir. It didn't just pick up right when they left off back in the '80s, but while it stayed 100% true to their old sound, it managed to improve even further, being their strongest release to date. And it isn't just their music that has that pure, authentic, '80s goth & post punk vibe, but their live performance was also like a time travel back to one of dark underground clubs of that era. Their guitarist, the only younger guy in the band, had more of a visual kei kind of look, but the rest had that typical, old-school, bit aristocratic goth appearance (with a matching performance style), that was so characteristic of the genre's earliest bands, like Bauhaus. And speaking of Bauhaus… the concert started with an excellent cover of one of their trademark songs, Rosegarden Funeral of Sores (which is originally a John Cale track, but nevermind that now) and it was followed by a selection of old and new songs… the new ones being so new, that most of them were actually brand new and unreleased. Of course, seeing them for the very first time, I hoped that more of my favorite tracks would be popping up in the set list, but to get a sneak peek of things to come instead was just as exciting. Especially as those new tracks sounded really great, yet again following the melancholic and melodic sound, with a bit of an exotic feel, that Madame Edwarda is known for, so I hope they will release them sometime real soon. But after all those mostly brand new tracks, they finished the 30 minutes set with a real bang: with the two songs from Réve Desir that were also supported with music videos: Macbeth and Orpheus, that made the audience go crazy and sing the lyrics along with Zin.
And it wasn't just the music that was so much like '80s underground, but the venue as well, as Jam was one of the smallest clubs I ever went to in Tokyo and it was definitely the most run-down of them all. So, it is probably quite close to what Tokyo's small clubs were like back in that time, when the whole live house scene just started, and even though it was kinda dodgy and shabby, still, it had a special, very friendly atmosphere. After Madame Edwarda's show, it was time to go back to gothy party time, that was only interrupted by a short butoh performance by Taizo, one of the iconic characters of the local goth scene. Who also happens to be one of the regular DJs of Club Walpurgis, along with Zin himself (under his DJ name, Zinny Aerodinamica) and a cute, doll-like goth girl, Zono Pansy and both them and the guest DJ, Mike Textbeak played very decent sets, spinning goth, industrial, minimal wave, deathrock, post punk, new wave and more, mixing  classic tracks with recent and obscure ones, so the sets never got boring or predictable. So, even though its counterparts might be better known, Club Walpurgis is most definitely a very recommended club night to go to for anyone who is visiting Tokyo and is into post punk and gothic music.
Madame Edwarda / Club Walpurgis official site