The return of Japan's doom gods: an interview with Church Of Misery
After a long break due to some rather drastic lineup changes, legendary doom metal band Church Of Misery resumed international touring in 2017 and during 2018's double summer tour they returned to Budapest for their third show to date (check the live report and gallery here). And I took this opportunity to sit down with band leader, bassist and sole remaining founding member Tatsu Mikami before the show to ask him about doom metal, his plans for the band, the latest album that he recorded with US guest musicians and of course about the new lineup… which led to some surprising revelations!

Church Of Misery always had a lot of member changes, but in 2014 everyone left beside you. What happened?
Tatsu Mikami: I don't know exactly why they decided to leave the band. But in that year, in 2014 we toured so much in Europe, we were here three times, visiting so many countries, with almost 100 shows in total. So, maybe it happened because they were too tired and homesick after all the touring.
How did you end up recording the next album, 2016's "And Then There Were None…" with US musicians instead of local ones?
Tatsu Mikami: At that time I was already in contact with some American musicians, like Dave (David Szulkin) from Blood Farmers. We were the support at all of their shows during their tour in Japan and we also stayed in touch after the tour. I always respected his guitar style and songwriting. I was deeply influenced by Blood Farmers ever since I started Church Of Misery. And when I started to write the new album I wrote him an email asking for his help. At that time I already made the demo tape for the album, so I sent him all the songs and he practiced them for six months! And he found a drummer, a good friend of his, Eric (Eric Little) from Earthride and Internal Void and he joined the recording project. So, they practiced together and then I got a mail from Dave saying "it's ready!". So, I went to Maryland and joined the rehearsal and stayed for two weeks. One week for rehearsal and the other week for recording. So, we had only two weeks, very tight schedule!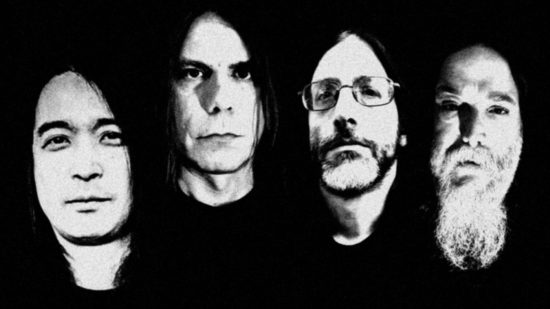 And the singer was from Repulsion…
Tatsu Mikami: Yes! Repulsion is also one of my favorite bands and their singer, Scott (Scott Carlson) also played bass in Cathedral before. And Church Of Misery was working with Rise Above Records, so, when I started to work on the project, I asked Lee Dorrian (the label's owner and Cathedral's leader and vocalist): how about Scott as singer for the album? And he said that it's a really good idea, so he asked Scott and he joined the project.
Did he also joined you in Maryland?
Tatsu Mikami: No, Scott recorded the vocals separately in California.
Since then, you found new members, so, can you tell us about them? Were they involved with any other bands before Church Of Misery?
Tatsu Mikami: First I found a new singer, Hiroyuki (Hiroyuki Takano), who was already playing in his first band, Sithter and he called me, that he wants to join Church Of Misery. He is a good character and he is good on stage.
Ohh? As in Sithter, the sludge metal band…?
Tatsu Mikami: Yes! Do you know them?
Yes, yes, their Chaotic Fiend album is a huge favorite of mine actually, I just did not know that it is the same singer.
Tatsu Mikami: Yes, yes, it is him! He is still with them, so he is singing in both bands now. And as for the others, when the old members left the band I asked many friends if they knew some good musicians and one of them said that he knows a good guitartist (Yasuto Muraki), so I invited him to join our rehearsal and turns out, that he is a really good player. So I decided to ask him to join the band and the drummer (Junichi Yamamura) was also recommended by the same friend. So, after the new line-up was fixed, we rehearsed for six month before going on a European tour last Autumn.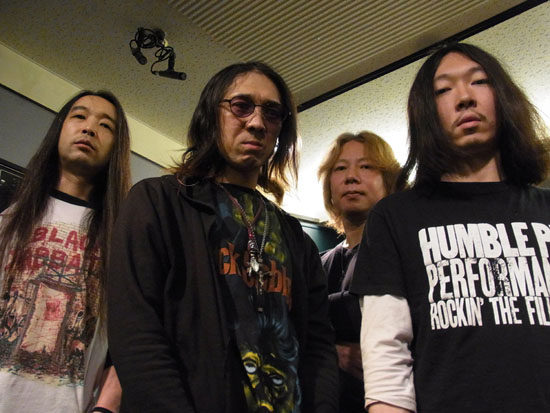 * At this point Hiroyuki Takano showed up nearby, so Mikami asked him to join us for a few question
So, when did you start your other band, Sithter?
Hiroyuki Takano: We started in 2006 and we have two albums so far.
What subjects do you deal with in your lyrics for Sithter?
Hiroyuki Takano: Our theme is classic horror movies and serial killers.
Tatsu Mikami: He is also a serial killer maniac!
So, were you inspired by Church Of Misery?
Hiroyuki Takano: Yes!! My favorite band's been Church Of Misery for 15 years now!
And how did you became the singer of Church Of Misery?
Hiroyuki Takano: When the previous members left in 2014, I wanted to become the new Church Of Misery vocalist. I thought of it as a challenge.
Tatsu Mikami: When I met him the first time, I asked why he wants to join? He already played in Sithter and were famous in the Tokyo underground scene. In Sithter, he plays guitar and also does vocals, but he told me that basically he was a singer, so he wanted to challenge himself as vocalist and frontman of Church Of Misery.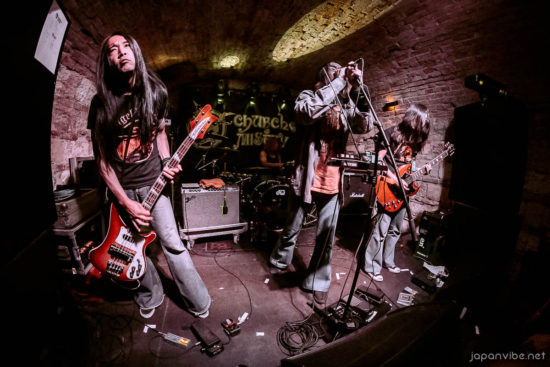 And how is the experience so far with several international shows behind you?
Hiroyuki Takano: Great, I am very happy with it.
Are there plans for some new Sithter material in the near future?
Hiroyuki Takano: Yes, maybe we will record a new album this year.
And are there any other sludge bands in Japan that we should keep an eye on?
Hiroyuki Takano: Hmmhmm… maybe Guevnna, they are like the Bongzilla of Japan and also Floaters.
There's been a doom revival going on the last several years, do you keep an eye on all the new bands that showed up recently?
Tatsu Mikami: To tell the truth, I really do not listen to the new bands. There are so many of them, but I always listen to old school doom groups.
Are there also more recent doom or sludge bands in Japan? I know about Sithter and Khola Cosmica, but not much more.
Tatsu Mikami: As for Khola Cosmica, Hiroyuki knows them, but I don't. But no, there are only a very few doom bands and there is no doom metal scene in Japan. While in Europe, US and other countries, there are so many good bands and a huge doom and stoner scene, so that is the reason why we mainly tour outside Japan. And we have already been playing for over twenty years, so doom and stoner bands and people in that scene everywhere know about Church Of Misery. I am really happy, that anywhere we go, always a lot of people come to our shows, so that's why we go to tour around the world every year.
And you still like to be on tour as much as in the beginning?
Tatsu Mikami: Yes, we have been touring Europe and America since 2005 and going to many countries to play is really fun!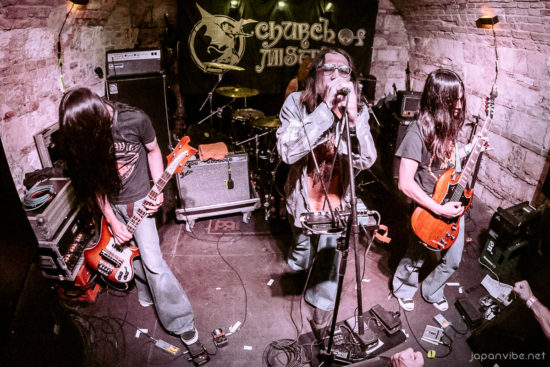 Your lyrics always deal with serial killers, cults and the like and Japan also had its share of killers and murder cults. Did you ever think about writing a track about any of them?
Tatsu Mikami: There are a few serial killers in Japan, but there are so many extreme and brutal serial killer cases around the world and those are a really great topic for my lyrics. When I was a kid I was already very interested in gruesome and brutal things, so I was reading books and watching movies a lot about serial killers. And when I started Church Of Misery, I though that the serial killer topic fits the heavy doom sound a lot. So, I choose that topic even though that was the time of the stoner rock movement. And most of the bands were singing about things like "smoke weed, get high" and "trip to the center of the universe", but I though these topics are boring. So, I picked a different topic. But there are plans to include a Japanese case as well, so next album maybe!
And for something completely different: In an earlier interview, you said you like to watch wrestling. Is it Japanese or US wrestling or both? And who is your favorite wrestler?
Tatsu Mikami: Japanese! American style is too much entertainment, while Japanese style is more martial arts. And my favorite is Akira Maeda.
And what's next for Church Of Misery? Are you planning to record a new album with the current line up?
Tatsu Mikami: After this tour we have an American show in summer and in October we have a tour in Australia and New Zealand. So, maybe next year we will start recording our new album. I am writing new songs now, so I hope for a release at the end of next year. It will feature songs about Unabomber and Fritz Haarmann from Germany and I am currently writing lyrics.
Thanks to Cudi Purci Booking for making this interview possible!