Mono: Requiem For Hell – new album and EU tour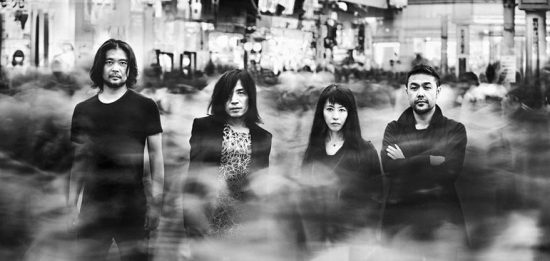 Mono is one of those Japanese bands, that seem to be on a never-ending worldwide tour, only stopping once in a while to record a new album. And it is no different this year. They started off with a couple of US dates in the Spring, then a few shows at home, they will do a short EU tour in August, mostly with festival dates, and they will be back later to hit the road again with French band Alcest. That second EU tour will take place between late October and early December and now they just announced that they will have a new album out mid-October! So, what I just said: tour / recording / tour / release / tour… and some more touring, just for the hell of it and then the same thing all over again. It is truly amazing, especially knowing how hard it is to be on the road all the time.
But back to the album! It will be their ninth altogether, the title is Requiem For Hell, it is mixed and produced by the one and only Steve Albini and it will be out on the 14th of October on CD, vinyl and digital. For their previous effort, 2014's double album The Last Dawn / Rays Of Darkness they dropped the strings to return to their early, more noisy guitar sound, but after this detour now the strings will be back. And while I prefer their earlier releases to the string heavy later ones and considered Last Dawn / Rays a very welcome return to form, the short trailer that was uploaded along with the announcement actually sounds quite promising, as it displays a darker, more edgy and atmospheric sound than their soundtrack-like albums from before 2014. Check the video below along with the cover, track list and the upcoming EU tour dates.
Requiem For Hell
2016.10.14
01.Death In Rebirth
02.Stellar
03.Requiem For Hell
04.Ely's Heartbeat
05.The Last Scene
Summer Tour 2016
2016 Aug 11: Brutal Assault, Jaroměř, CZ
2016 Aug 13: Rock Altitude Festival, Le Locle, CH
2016 Aug 14: Poolbar Festival, Feldkirch, AT
2016 Aug 16: Musica W Festival, Castellina Marittima, IT
2016 Aug 18: ArcTanGent, Bristol, UK
2016 Aug 20: Amplifest, Porto, PT
2016 Aug 21: O Tunel, A Coruña, ES
2016 Aug 22: Acapulco, Gijón, ES
2016 Aug 24: La Choza, Playa del Inglés, ES
2016 Aug 26: Modern Sky Festival Helsinki, Helsinki, FI
Alcest / Mono
2016 Oct 27: Beatpol, Dresden, DE
2016 Oct 29: Strom, Munich, DE
2016 Oct 30: Gebaude 9, Cologne, DE
2016 Oct 31: Jubez, Jubez, DE
2016 Nov 1: Salzhaus, Salzhaus, CH
2016 Nov 2: Circolo Magnolia, Segrate, IT
2016 Nov 3: Mostovna, Nova Gorica, SI
2016 Nov 4: Locomotiv, Bologna, IT
2016 Nov 5: Init, Rome, IT
2016 Nov 6: Spazio 211, Turin, IT
2016 Nov 7: Cco Villeurbanne, Lyon, FR
2016 Nov 8: La Maroquinerie, Paris, FR
2016 Nov 9: Engine Rooms, Southampton, UK
2016 Nov 10: The Institute, Birmingham, UK
2016 Nov 11: Queens Hall, Leicester, UK
2016 Nov 12: Classic Grand, Glasgow, UK
2016 Nov 13: Brudenell Social Club, Leeds, UK
2016 Nov 14: Gorilla, Manchester, UK
2016 Nov 15: The Globe, Cardiff, UK
2016 Nov 16: Marble Factory, Bristol, UK
2016 Nov 17: Brixton Electric, London, UK
2016 Nov 18: VK, Brussels, BE
2016 Nov 19: 013, Tilburg, NL
2016 Nov 20: P60, Amstelveen, NL
2016 Nov 21: Uebel & Gefährlich, Hamburg, DE
2016 Nov 22: Lille Vega, Copenhagen, DK
2016 Nov 23: Pustervik, Gothenburg, SE
2016 Nov 24: Parkteatret, Oslo, NO
2016 Nov 25: Debaser Strand, Stockholm, SE
2016 Nov 26: KB, Malmo, SE
2016 Nov 27: Binuu, Berlin, DE
2016 Nov 28: B90, Gdansk, PL
2016 Nov 29: Firlej, Wroclaw, PL
2016 Nov 30: Szene, Vienna, AT
2016 Dec 1: Durer Kert, Budapest, HU
2016 Dec 2: Tabacka, Kosice, SK
2016 Dec 3: Rockstadt, Brasov, RO