Kikagaku Moyo @ Arena Wien, 2016.06.30
The very young psychedelic rock group, Kikagaku Moyo's been becoming somewhat of an international sensation lately, due not only to their excellent albums, that's been getting mostly rave reviews (especially 2014's Forest Of Lost Children), but also their label, Guruguru Brain, that's been also getting a lot of attention for introducing several obscure, but very interesting bands from all over Asia. Their first releases, two albums and one EP, all came out in 2013/2014, then last year they released two split 7″ singles: one with Moon Duo and one with Makoto Kawabata (interview with him here!) and US act Kinski, before finally returning this spring with yet another album House In The Tall Grass. This was followed by their longest tour in Europe so far that started mid-May, lasted till early July and included altogether 36 shows. I went to see them at one of the last shows of the tour, the one in Vienna, where they played in Arena's smallest, approx. 120-150 capacity room, however they almost managed to fill that on a Wednesday evening, which is a pretty good feat for such a young band.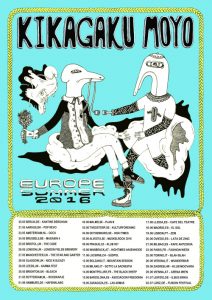 As for their sound… while comparing them to Japan's most internationally well known psychedelic group, Acid Mothers Temple seems like an obvious thing to do, actually they do not have much in common, except sharing some of their musical roots. AMT is pretty much a universe of its own, with its countless releases, side-projects, all their unexpected musical references and their typical, yet ever changing sound, that sometimes uses heavy European folk influences, while other times goes all crazy and experimental. All this with with a huge dose of improvisation. Meanwhile Kikagaku Moyo is a much more traditional kind of band, that plays pretty straightforward, traditional psychedelic rock. And they not just sound, but also look like a group of young hippies that accidentally time traveled here straight from Woodstock.
Beside the usual drums-guitar-bass-vocal combo, their line-up also includes a sitar player, which adds even more to that authentic '60s/'70s feel… so, what makes them so interesting while pretty much all they do is faithfully following a music genre that's been around for half a century? First of all, they write excellent songs, that are as trad psych as it gets, but still manage to sound refreshing. And also, they create a very unique atmosphere on their albums, with a characteristic, calm, tranquil, peaceful sound, that makes you think that it was created by a a bunch of people, living in the middle of a remote forest, surrounded by nothing but trees and birds and mountains. Pure hippie material. Their show however was a bit different and what made it really great, is the way they mixed their calmest, nice little feel-good songs, like kogarashi with their heavier ones (the kind mostly displayed on their trippiest-by-far release, the Mammatus Clouds EP) and here they went totally over the board with those ones, turning them into massive, jamming monsters. The show itself started out with some laid-back, smooth jamming, which was actually more like a dialogue between Ryu Kurosawa's sitar and singer Tomo Katsurada's gitar, with the others providing a backdrop for the slowly building up monotonous rhythm that eventually turned into the actual opening track of the show… which in turn turned into some serious jamming madness at the end. An amazing start and they continued in similar vein, throwing in some of their lovely little tracks once in a while, that provided us some time to calm down a bit before we yet again went straight back to ultra heavy psychedelic freak-out territories.
This was really one of those, kind-of-magical type of shows, where the band manages to totally drag the audience into their own little world, so they all get lost in the swirling sound of music together. And another thing to note was how skilled they were with their instruments. They are an almost ridiculously young bunch of guys, but they play (both their instruments and together as a band), like they've been together for ages. And even though they've been on the road for well over a month by that time, that did not show either, the whole show was just perfect and actually even better than what I expected. After the main set, they of course returned for an encore that included Kodama from Forest…, which pretty much became their signature track with its galloping rhythm and strange video:
If they keep this up, they can be major players on the international psych scene… but well, actually they are kind of like that already as they were invited to this year's Liverpool Psych Fest to host their own stage, called "Narrow Road To The Deep Mind showcase" introducing several acts from their label. More info about that here and scroll down for the photo gallery and the live version of Kodama.