GRIM + Linekraft @ Mannheim, 2016.06.17/18
Jun Konagaya's industrial solo project Grim and his previous band White Hospital (that he formed together with Tomo Kuwahara, who later started his own project, Vasilisk) were something of a mysterious legend amongst international industrial and experimental music fans, especially as Konagaya pretty much disappeared from the music scene after the '80s and their releases were very hard to get (and actually the original pressings still sell for a smaller fortune on Discogs and such places). However after a long silence first some CD re-releases appeared and eventually he also started to release new Grim material, first on Steinklang, but his latest album, Orgasm came out on Germany's legendary power electronics / industrial label Tesco Organisation.
And its release date, the 16th of July coincided with Grim's first ever overseas concert at Will To Power: Electronics II, a two day festival organized by the people at Tesco at their hometown, Mannheim. The festival had an extremely strong lineup listing some of the best power electronic acts from literally all around the World… Nordvargr (Sweden), Am Not, Ramleh (both UK), Puce Mary (Denmark), Control (US) and the local KE/HIL. And while Grim came over to Europe for only this event they got the most out of it, by playing a very different set on both nights, with an additional performance by Linekraft (aka. Masahiko Okubo) a solo noise act, who also happens to be in charge of metal percussion in Grim.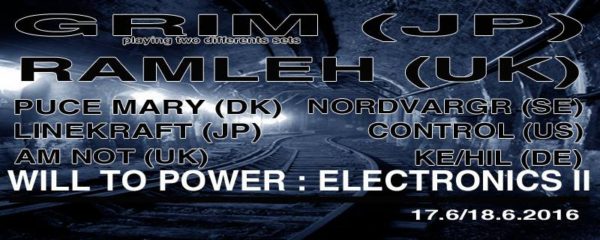 The performance on the first day was more like what you would expect based on Grim's albums, especially the previous one, the masterpiece called Maha, which I consider to be one of the finest examples of ritual / tribal industrial ever made. So: rough, chanting vocals, that sound like a Tibetan monk on a heavy acid trip, complete with heavy, tribal rhythms, metal percussion and guitar noise. This, together with the trio's powerful stage presence made this an overwhelming, elemental explosion of raw energy and I was pretty sure that whatever they gonna do for the second night, they won't be able to top this. But I was so, so wrong.
But before that, Linekraft, early on the second night presented the rawest, most back-to-basics industrial set of the festival, that took back the genre to its early roots with extremely heavy, repetitive, straight-from-the-factory noises, mixed with metal percussion and threatening, shouting vocals. Linekraft's album are also good, but his music worked much better live, with him walking around the stage like a madman, growling into his mic, hitting the metal barrel with anything he could get his hands on.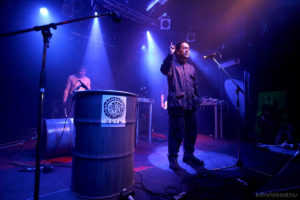 And then, two acts later it was time for Grim's headline set. Nobody knew what to expect and the members of the local crew only said cryptic remarks that "it will be different, very, very different". And it was. Even the way it started: only Linekraft and guitarist Daisuke Maekawa were on stage, slowly building up a monotonic rhythm, but after a couple of minutes, all of a sudden, a young Japanese girl appeared on stage beside them, joining them with unearthly, screaming and growling vocals. About the same time people on the front noticed a noise coming from the back of the hall and it turned out to be Konagaya, who was handling out small metal bottles with some stuff inside to everyone in the audience and encouraged people to join the rhythm by shaking the bottle in the air. So, by the time he reached the stage and joined the rest of the band with his raw vocals and occasional barrel-hammering, pretty much the whole audience was taking part in the performance. And from this point, the rhythm built up more and more, becoming even louder and heavier, spiraling totally out of control by the end of the set. It was not "simply" a concert as the one on the first night, it was more like a ritual, a perfect closing ceremony for the festival. And I'm not sure if there were plans for an encore (as none of the other acts did encores during the event), but the audience was so ecstatic, that they pretty much forced them to come back twice.
It was a perfect introduction to the live sound of Grim and even though it was also the closure of the festival, for me the night was not over yet: as this appeared to be a once in a lifetime chance, I tried to set up an interview with Jun Konagaya and he agreed to do so after the second night's show. So, I waited around a bit, while they were chatting with people and signing stuff and when things started to settle down, we sat down in the backstage to do what, to the best of my knowledge, is the first ever English Grim interview, that you can find over here.
For a gallery, covering the whole festival head over to my concert photo blog, InfiniteBeat.
And for the videos below, make sure to watch them with your headphones on to get the full experience!
______________________________________________________
Grim
Linekraft