Triple dose of psychedelia: three new releases from Acid Mothers Temple!
The always busy psychedelic rock troupe Acid Mothers Temple & The Melting Paraiso UFO just released two albums recently and they also have one lined up for December, so let's see what should we know about these new recordings:
Paralyzed Brain, out on CD on the Italian Off Set Records label, was released for the band's current EU & UK tour (that I unfortunately did not notice earlier and which only has a couple of UK dates left… but check the tour schedule at the end of the post anyways). It comes in a wonderfully weird digipak jacket (designed by Cristian Scarola) featuring chickens, eggs, UFOs and a huge cat and contains three lengthy tracks that were all recorded in 2016-2017 and mastered by James Plotkin. Currently the album is available only at the shows in a limited edition of 200 copies, but normal distribution and a vinyl version will follow in 2019.
Paralyzed Brain
2018.10
01.Cometary Orbital Drive 0011
02.Paralyzed Brain
03.Magic Bohemian Has Gone
Also released in October and also on an Italian label Psychedelic Battles – Volume Five is, as the title suggests, the fifth part in VE Recordings' series that features split releases of psychedelic rock groups. This time they recruited AMT for another rendition of Flying Teapot, their cover of the classic Gong track, while the vinyl's B side comes with three songs from Italy's own Lee Van Cleef.
Psychedelic Battles – Volume Five
2018.10.18
A.Acid Mothers Temple & The Melting Paraiso U.F.O.: Flying Teapot
B1.Lee Van Cleef: Everyone Should Kill An Old Hippie
B2.Lee Van Cleef: White Bear's Revenge
B3.Lee Van Cleef: Gibon
And the last one is another split release: titled Trails To The Cosmic Vibrations, it takes us to Singapore, where Ujikaji Records enlisted AMT and local experimental rock group The Observatory. Scheduled for a late December release, the 12″ will feature one track by each band:
Trails To The Cosmic Vibrations
2018.12.22
A.Acid Mothers Temple & The Melting Paraiso UFO: Flatwoods Monster A Go Go ~ Cometary Orbital Drive 00∞00
O.The Observatory: Vibrational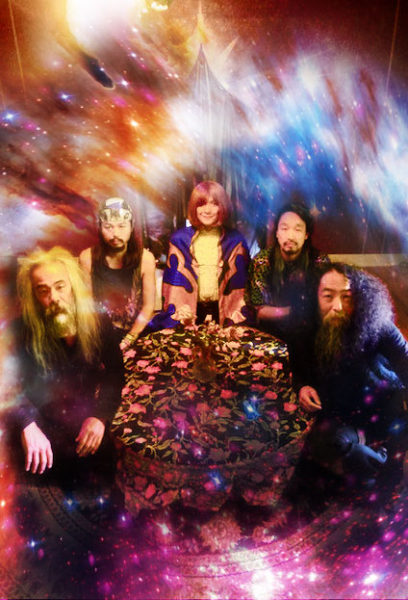 Electric Dream Ecstasy Tour in Europe 2018
2018.10.02 – Portugal, Coimbra: Salao Brazil
2018.10.03 – Portugal, Lisbon: Musicbox
2018.10.04 – Portugal, Braga: Gnration
2018.10.05 – Spain, Oviedo: Late De Zinc
2018.10.06 – Spain, Bermeo: Mareak Jaialdia
2018.10.07 – Spain, Valencia: 16 Toneladas
2018.10.08 – Spain, Seville: Sala X
2018.10.09 – Spain, Granada: Planet Baja
2018.10.10 – Spain, Madrid: Moby Dick Club
2018.10.11 – Spain, Zaragoza: TBC
2018.10.12 – Spain, Barcelona: Upload
2018.10.13 – France, Montpellier: The Black Sheep
2018.10.14 – France, Clermont: Raymond Bar
2018.10.15 – France, Nantes: Scène Michelet
2018.10.16 – France, Lyon: Sonic
2018.10.17 – Switzerland, Basel: Kaschemme
2018.10.18 – Italy, Venezia: Argo 16
2018.10.19 – Austria, Kufstein: Kulturfabrik
2018.10.20 – Switzerland, Yverdon Le Bains: L'Amalgame
2018.10.21 – Greece, Athens: Temple
2018.10.23 – Netherlands, Haarlem: Patronaat
2018.10.24 – Danmark, Aalborg: 1000 Fryd
2018.10.25 – Danmark, Harders: Svendborg
2018.10.26 – Danmark, Copenhagen: Stengade
2018.10.27 – Germany, Berlin: Urban Spree
2018.10.28 – Germany, Dresden: Chemiefabrik
2018.10.29 – Germany, Koln: Sonic Ballroom
2018.10.30 – Belgium, Brussels: Magasin 4
2018.10.31 – France, Paris: Glazart
2018.11.01 – Netherlands, Utrecht: DB's
2018.11.02 – Brighton UK, : Patterns
2018.11.03 – London UK, : The Garage
2018.11.04 – Norwich UK, : Waterfront
2018.11.05 – Nottingham UK, : Metronome
2018.11.06 – Newcastle UK, : Cluny
2018.11.07 – Edinburgh UK, : The Mash House
2018.11.08 – Glasgow UK, : Nice N Sleazys
2018.11.09 – Manchester UK, : Deaf Institute
2018.11.10 – Hastings UK, : Printworks
2018.11.11 – Bristol UK, : The Exchange